Johnny Depp names parts of his private island after the most important people in his life: his wife, Vanessa and his children, Lily Rose and Jack.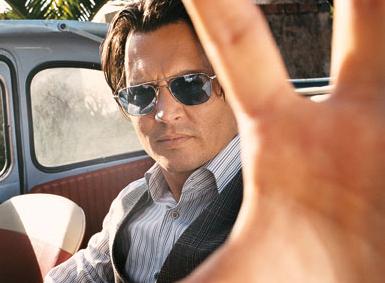 And, it has just been revealed, one special spot is touchingly dedicated to Heath Ledger.
According to a Vanity Fair article, Depp — who took on Ledger's role in a movie after his death in 2008 — dubbed a stretch of water on Little Hall's Pond Cay island "Heath's Place" for the tragic Dark Knight actor.
Heath is not the only one of Depp's pals to be memorialized: there is a cove named "Gonzo Beach" after the style of journalism pioneered by his friend and hero, Hunter S. Thompson, who died in 2005.
But it seems that not all of Depp's fellow actors are regarded with such reverence: in the story, to be published in the issue available June 3, he says that Tom Cruise's goofy cameo as a dancing Hollywood exec in Tropic Thunder is his best work.
"That's the best I've ever seen Cruise," the Pirates of the Caribbean star tells the magazine.
We can't see Tom taking that as a compliment!
Johnny, Jude Law and Colin Farrell jointly took over Heath's role in The Imaginarium of Doctor Parnassus, with all three actors donating their paychecks to his daughter, Matilda.
Comments
comments