It was reported that a "clearly drunk" woman accosted Brad Pitt as he chitchatted with pals at the HBO bash.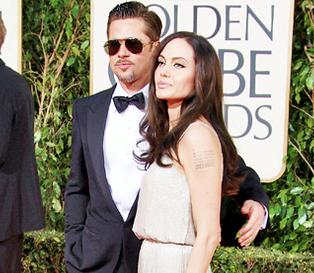 A source revealed: "She went on and on about how the aging makeup in 'The Curious Case of Benjamin Button' made him look 'ugly as a dog.' Brad listened politely and explained that the makeup was essential to telling the story properly. The woman finally piped down for a moment, then looked closely at Brad's face."
After closely scrutinizing the Hollywood actor, the woman was quoted as saying: "And you should definitely shave that goatee because it looks just horrible," before marching off."
The source added: "Brad's buddies cracked up laughing."
Angelina Jolie left Brad Pitt's side at the soiree long enough to have a conversation with a seriously poufy-tressed and apparently baby-craving Drew Barrymore.
Drew Barrymore was quoted as telling Angelina: "My biological clock is ticking so loud it sounds like a drum. I want kids so bad, but with no husband prospects around, I am thinking of adopting."
According to the paper, Angelina Jolie proceeded to give Barrymore her digits, along with an offer of help should she decide to go the adoption route.
Drew, who's been sowing her oats since her July split from Justin Long, has long talked about her desire to hear the pitter-patter of little feet, telling InStyle in 2006, "I definitely feel the beginnings of a ticktock. Whether I have children or adopt — whatever form a family comes in, I would absolutely love to have it."
Comments
comments