Miley Cyrus tore a page from Britney Spears' style book wearing ripped tights on Saturday, January 17.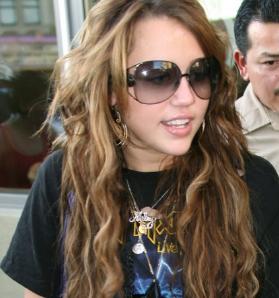 On a day out with elder sister Brandi and BFF Mandy Jiroux Miley, the Hannah Montana star was dressed in black T, grey mini skirt and blue fringed boots with matching hand bag.
She accessorized with multi-gold ring hoop earrings, a black star gold necklace and a multi-chain long black necklace, multi-colorful bracelets in both the arms and multi-rings in both the hands.
Her sunglasses rested on her head with her long rich brown wavy hair with caramel highlights draping her shoulders. She wore pale gold eye shadow, clear mascara and pink lip gloss.
The trio visited a North Hollywood nail salon, bought a potted plant and had lunch at a Chinese restaurant.
Miley Cyrus will soon be on her way to Washington for the 'Kids' Inaugural: We Are The Future' concert at 7 p.m. ET Monday, January 19. The Disney Channel will broadcast from the event, starting at 8 p.m. ET.
Miley will introduce and debut the first music video from her upcoming big-screen debut, Hannah Montana – The Movie before the telecast.
The video for the song, Let's Get Crazy, will debut along with the official trailer of Hannah Montana – The Movie.
Also performing at the event with Miley are the Jonas Brothers and Demi Lovato.
Comments
comments