Brad Pitt was spotted as he gets in some father-son bonding time with his two oldest sons — Maddox, 8, and Pax, 5 — at the Green Day concert in the first row of section 114 at the New Orleans Arena on Friday (August 7).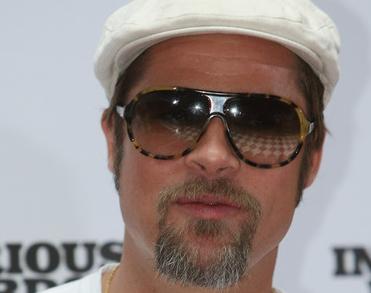 Band members Billie Joe Armstrong, Mike Dirnt and Tre Cool rocked out for a straight 2.5 hours.
At one point during the concert, Bille Joe commanded. "Everybody off your as*es!"
Meanwhile, Brad Pitt thinks his new movie is "outrageous".
The actor loved working with director Quentin Tarantino on second world war film 'Inglourious Basterds' and says it was an even better experience than he had expected.
He said: "I did the movie because I'm a Tarantino fan. It's an outrageous movie and it's hilarious. From my perspective, making it was like a reward for decades of hard work. I've never had a nicer experience making a movie. It's a revenge fantasy. It kind of stomps and tap dances all over the WWII stigma. I expect I will get some flack for it. But it's Quentin Tarantino, man."
While Brad enjoyed working on the movie, he insists his own enthusiasm failed to match that of his German co-stars.
He added to Parade magazine: "You know who enjoyed making the movie the most? The German actors! I realize that they, being a younger generation, have to carry the stigma from World War II. And, in this film, they got to stomp all over that thing. Everyone's born of a particular nationality and it seems you have to carry the sins of the fathers even if you had nothing to do with their crimes. And you really feel the frustration with that and the need to shake that off."
Comments
comments