Brad Pitt, who was recently spent his time with Zahara during Angelina Jolie's Iraq visit, flashes his tattoo as he carries Zahara, who is holding an ice cream.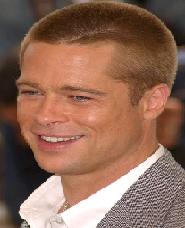 The "Babel" actor was spotted a new tattoo, which is located near his left wrist, believed to be an image of Oetzi the iceman.
The unusual image of the iceman is a famous mummified man, which was discovered in Otztal Alps, in 1991.
An anthropologist at the University of Vienna and president of the Iceman-Commission revealed, 'I'm sure the Iceman feels honored to decorate an American celebrity, [like the] famous Mr. Pitt!' The anthropologist added that the Iceman has the world's oldest tattoos consisting of a series of blue-black marks and a 'cross'.
As for the statement of Brad Pitt's publicist, she revealed that she had 'no idea' why Brad had chosen the design.
You could see his tattoo here
Comments
comments