Justin Timberlake, Angelina Jolie, Brad Pitt, Orlando Bloom and Eva Longoria got included in a sexy new magazine poll.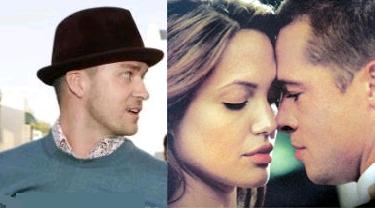 More than 50,000 readers of glossy InStyle participated in the magazine's annual "Sexy Poll," choosing the stars to top categories such as Sexiest Troubadour, Sexiest Girl Found On iTunes and Sexiest TV Cast.
Justin Timberlake grabbed the Sexiest Troubadour title, while celebrity couple Angelina Jolie and Brad Pitt claimed 42 percent of the vote for Sexiest Too-Hot Twosome.
Brad Pitt and George Clooney had a tied competition in the Sexiest Reasons To Spend $10 On A Movie category while Angelina Jolie was a sure winner in the Sexiest Movie Star Whose Va-va-va-voom You'd Like To Borrow For A Night stake.
Eva Longoria got the Sexiest High-Fox-Factor TV Comedienne title; Orlando Bloom is hailed as Sexiest Movie Hero, Daniel Craig got the Tuxedo Trumps Skin and Adrian Grenier is Sexiest TV Funnyman.
Comments
comments