Brad Pitt has revealed that he got "radar" that will sniff out paparazzi.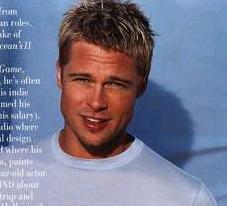 The "Babel" actor revealed his "instincts" allowed him to detect photographers hiding on the set of his new film "The Assassination of Jesse James by the Coward Robert Ford".
Brad Pitt also revealed, "You develop radar. Like I know when there's someone in the bushes 300 yards away shooting. I know to recognise that feeling. On the Canadian set, there was a guy in total camouflage, who commandoed his way on knee and elbow. And I know that feeling. It's inexplicable, it's just one of those instincts."
Andrew Dominik, the film director confirmed Brad's sixth sense for snappers, saying, "He would always spot the paparazzi hiding in the trees."
Brad, who plays American outlaw Jesse James, found it easy to relate to his character because he often feels "paranoid" and "hunted".
The actor explained: "I understand the essence of paranoia. I understand being hunted, to some degree. I understand a bounty on my head."
Comments
comments