Brad Pitt has reportedly resorted to plastic surgery to keep his famous face looking good.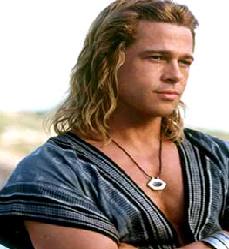 Despite being named People magazine's sexiest man alive on two separate occasions – the last time when he had already entered his 40s – Brad is feeling the pressure to stay young.
After a long and involved press tour for "Ocean's 13" and "A Mighty Heart", Brad was accused of looking a little old and tired that is quite understandable considering he has spent the past 20 years looking nothing less than perfect.
But the criticism on his looks is something new for the actor and he allegedly went straight to the cosmetic surgeon for some work done to make sure that his jaw is still strong and his skin still smooth.
Brad has spent much of his career playing down his heavenly looks. In films like "12 Monkey's", "Snatch" and "Flightclub" he purposely added imperfections to his face. But then there are films like "Legends Of The Fall" and "Meet Joe Black" which showcased why he is one of the sexiest men in the world.