P. Diddy insisted that Prince Harry could out-party him. The hip-hop mogul knocked back pints of Crystal champagne backstage at the Concert for Diana at London's Wembley Stadium.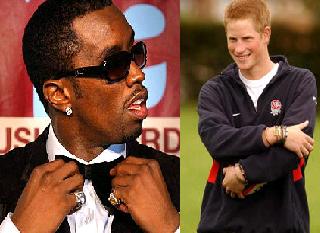 However, the rapper, who performed his hit 'I'll Be Missing You' for the memorial show marking the 10th anniversary of the untimely death of Britain's Princess Diana, insists he is no match for the party animal prince.
He revealed, "There's no way I could out-party Prince Harry. I've heard he's very good at it. I'm here to have a celebration – a celebration of Diana's life."
After the concert P. Diddy threw a £160,000 party at top London nightspot Paper.
Among the array of alcohol laid on for party-goers were two giant diamond-encrusted bottles of Sputnik vodka. Each bottle was handmade especially for the event and cost £10,000 each. There were two silver baths filled with 2,400 bottles of Bud Silver beer and thousands-of-pound-worth of champagne was also available.
Prince Harry, 22, is renowned for his hard partying and is often seen out drinking with his Army pals and girlfriend Chelsy Davy.
The prince and his 21-year-old girlfriend often share a couple of Treasure Chest cocktails at their favorite London club Mahiki. The £100 cocktail is designed to serve eight people and contains rum, brandy, peach liqueur and champagne.
Comments
comments