Brad Pitt paid a visit to the New York set of Angelina Jolie's thriller, Salt, Thursday afternoon.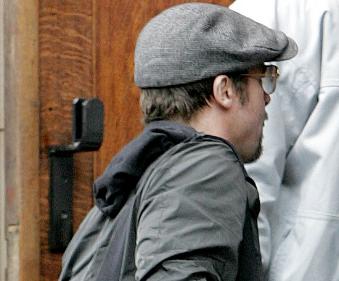 The dad-of-six was was dressed down in jeans, a jacket and his favorite newsboy cap.
The same day, he took a flying lesson — a longtime hobby of Jolie, who got her pilot license in 2004.
Jolie was also spotted on set holding Richard N. Haass' War of Necessity, War of Choice: A Memoir of Two Iraq Wars, which documents the president of the Council on Foreign Relations' personal account of the decision to invade Iraq.
The Jolie-Pitt family has been living on New York's Long Island while Jolie films the flick, which hits theaters next summer. She stars as Evelyn A. Salt, a rogue CIA operative trying to clear her name.
Comments
comments