Rumor has it, Miley Cyrus is desperate to rekindle her love relationship with former boyfriend Nick Jonas, but she doesn't know how to end her romance with current lover Justin Gaston.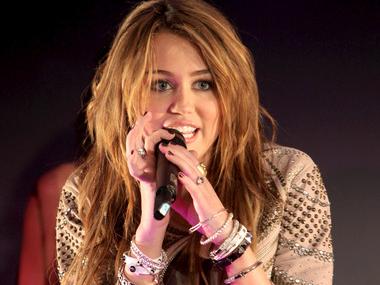 "Hannah Montana" leading actress Miley Cyrus wants to break up with current boyfriend Justin Gaston since she is desperate to rekindle her romance with "first love" Nick Jonas, New York Daily News' Gatecrasher has reported. "Miley and Nick want to get back together. Because they're working together [on a new video], they've been put in close proximity to each other. They're now spending more and more time together, and they're constantly on the phone," the column cites its sources as informing about the closer bond the ex-lovers have had after recording "Pass It On" for their label Disney.
Providing evidence that Miley and Nick are close to be back on, Gatecrasher says Miley and Nick recently hooked up at his house. "Miley was over at the Jonas house recently, and they were smooching. Nick's parents have this rule that when a girl is over, the door has to be open, but that didn't stop Nick and Miley from making out," claims Gatecrasher's insider, adding that both Disney stars were "very sweet together."
In further report, it is said Miley "doesn't know how to tell Justin that they're over, but Nick is being very firm with her. He's a good, stand-up kind of guy, and is making Miley tell Justin very, very soon. He's being tough about it."
A representative for Nick declines to comment on the report, reasoning "We have no comment on our client's personal life." Meanwhile, Miley has not yet issued a word on that matter. However, Gatecrasher's insider insists, "I think Miley and Nick are definitely in the process of rekindling their romance."
Miley Cyrus began dating Nick Jonas in 2005. Splitting up in 2007, the former lovers were seen on April 11, 2009 reuniting for a lunch date at the Village Idiot restaurant in Los Angeles. Miley currently is dating underwear model Justin Gaston. They've been dating for months now.
Comments
comments