It is not a secret that Brad Pitt loves to ride bike so it is not a surprise if the actor would get nasty speculation with Ducati Desmosedici RR motorcycle.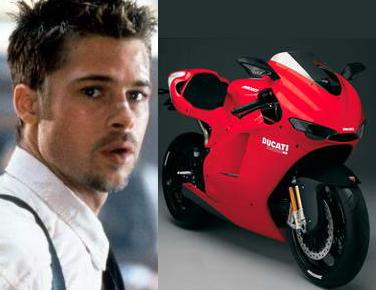 A report claimed that the "Babel" actor wanted to get the latest and greatest Ducati Desmosedici RR motorcycle before anyone else.
The report also indicated that a bunch of e-mails were obtained that went back and forth between Brad Pitt and the United Parcel Service (UPS) and it all centers around Tom Cruise getting his motorcycle before Brad Pitt got his.
The e-mails, which was sent by a UPS exec to various freight terminals, instructed that all shipments of the bike be stopped immediately until Brad got his delivered.
The first e-mail: the delay "has something to do with Brad Pitt not receiving his first." The second e-mail: "Please be sure and DO NOT DELIVER THESE BIKES UNTIL NEXT TUESDAY. We wouldn't want to upset Brad Pitt."
A UPS insider claimed the shipping freeze ticked off Denzel Washington and Michael Jordan, both of whom allegedly complained. Both representatives of the two celebrities did not make any comment with the issue.
As for the comment of Brad and Ducati representatives, both revealed that it's not true — that Brad Pitt never ordered the bike and was never supposed to receive one. The UPS, exec refused to make a comment, saying, "I do not want to comment on that."
Comments
comments