Brad Pitt takes his motorcycle for a spin in Los Angeles on Friday afternoon (June 19).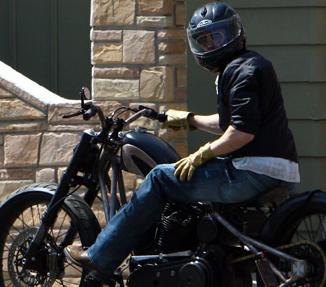 The actor looked to be having a marvelous time, speeding away from paparazzi on one of his custom motorcycles.
The day's outing comes as Brad's partner, Angelina Jolie, has been busy supporting World Refugee Day in Washington DC.
The 45-year-old actor and director Quentin Tarantino are dubbed the "Must Bastards" in Entertainment Weekly's Must-List Issue. The pair join forces for the hotly anticipated World War II revenge fantasy Inglourious Basterds.
Brad has worked with some major directors— David Fincher, Terrence Malick, the Coen brothers – and he knows it.
"I'm a director whore, it's true," he says. The movie has been described as "kosher porn," seeing as it is a revenge fantasy about Jewish-American soldiers. "But there is an aspect of a wish-fulfillment fantasy to the film, for lack of better words," says Quentin. "Taking down Hitler and destroying the Third Reich—we've all had those fantasies."
Comments
comments