They say absence makes the heart grow fonder, and that's certainly the case for Robert Pattinson and Kristen Stewart, the Twilight co-stars whose incendiary screen passion has exploded into their real lives.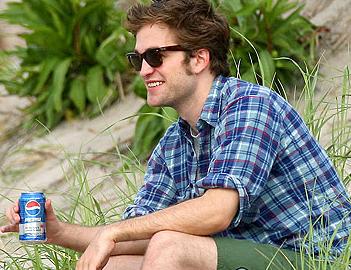 Rob is in NYC for the summer, shooting a somber independent film called Remember Me (click here for details on that film!), while Kristen is back in L.A., working on The Runaways, a rock biopic in which she portrays music legend Joan Jett.
That the young, white-hot stars are more than mere friends is beyond dispute. "It's no secret that their relationship has been heating up these past few months," says a source close to the couple, who recently completed New Moon, the second film in the Twilight saga. "They are attracted to each other, and there is definitely something very special going on between them."
Something very complicated, too. For Rob and Kristen form two sides of a compelling love triangle: Kristen is evidently still involved with her longtime boyfriend, actor Michael Angarano, and as OK! reported last week, Rob wants that romantic geometry simplified, one way or the other, no later than October, when he and Kristen start filming the third Twilight movie, Eclipse. Though Rob is giving Kristen a few months to choose between suitors, he's not giving her a lot of rope.
"Rob is constantly texting and calling Kristen to 'check in,' " the source says. "He's invited her and their New Moon co-star Dakota Fanning to fly to New York and hang out with him and his friends some weekend — his treat."
Meanwhile, After getting swarmed by fans and a run-in with a New York City taxi, Robert Pattinson was spotted as he took five Friday on the beachside set of his movie Remember Me in New York.