Brad Pitt, who previously defended his partner Angelina Jolie, is used to people dissecting his looks but his a scruffy thin mustache made his fans scratching their heads.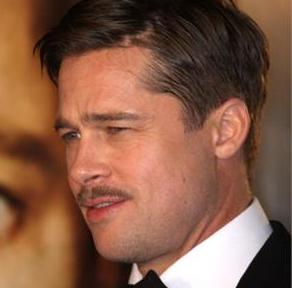 Whether on the red carpet for Benjamin Button or in New Orleans for his "Make It Right" foundation to help residents return to the city, the actor's mustache is front and center.
The actor proudly brushes off any criticism as he defended his facial hair by saying: "It's fashion. Who am I without creative facial hair?"
After hearing about the naysayers, he added: "I consider it very brave."
In truth, the mustache is for his role in the Quentin Tarantino movie he's filming, "Inglourious Basterds".
After learning that his pal George Clooney is also sporting facial hair, Brad Pitt quipped: "I cannot get this guy out of my slipstream. He calls me up and wants to know what I'm wearing – and then he shows up in the same thing. Next thing you know he's going to have six kids. Just got to tell you it's getting really old."
Comments
comments