Tom Cruise, who previously talked about his television interviews, wanted to star in a Broadway musical.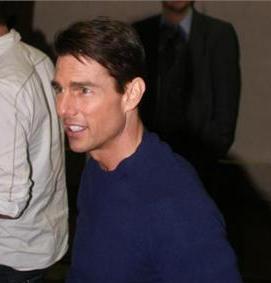 The 46-year-old actor is desperate to follow in the footsteps of his wife Katie Holmes, who is currently appearing in a play on New York's famous theater district, by treading the boards in a singing production.
"The Mission Impossible" star, who was appearing as a guest on 'The Tonight Show With Jay Leno', revealed: "I would like to do a musical. I like making movies but I'm not saying 'no' to Broadway."
Tom then tried to convince host Jay to let him debut his singing voice on the program, saying: "We should do that right now!"
The Hollywood star then got up and started impersonating Elvis Presley, singing his famous hit 'Blue Suede Shoes', and leaped from the couch to perform some Elvis-style dance moves.
Tom also took the opportunity to talk about his family, showing off a picture of himself dressed as Santa Claus with Katie and their two-year-old daughter Suri.
He added: "Mrs. Claus is looking very hot!"
Comments
comments