Brad Pitt and Zahara spent some quality time together in Central Park, New York City while Angelina Jolie visited refugees on the Iraq.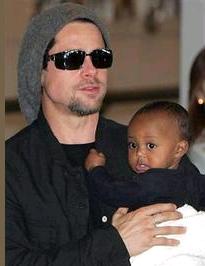 Zahara appeared to like Central Park when she visited it on Saturday with her brothers. She went to the park again with Brad Pitt doing Daddy duty.
The "Babel" actor and Zahara took a horse and carriage ride through the Park and buy some ice cream. Zahara seems to make a mess while eating ice cream so Brad Pitt cleans her up. They also frolicked on the lush green grass.
Other children and parents enjoying the afternoon in the park came over to meet the famous actor and his daughter.
Comments
comments