Brad Pitt's vintage motorcycle breaks down in a residential area near the Franklin Village in Los Angeles on Thursday (July 2).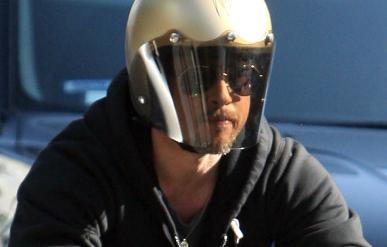 Left with few options, the 45-year-old actor decided to bum a ride off the paparazzi and leave his motorcycle on the street!
Recently, Conan O'Brien moved to L.A. for his new show, Late Night with Conan O'Brien. On trying to make new friends with A-lister celebrities, he told Los Angeles Confidential magazine that he just "pretend[s] that every celebrity I see is a friend by default." Hesitating a moment, Conan admits "well, maybe not Brad Pitt. I probably won't show up at his doorstep and say, 'BP! Let's grab some huevos!'"
Meanwhile, there is already an International Trailer for Quentin Tarantino's Inglourious Basterds starring Brad Pitt, Diane Kruger and Melanie Laurent.
The 2m 10s long trailer offers all new footage from the film.
The film is due in theaters in the US on August 21, 2009.
Comments
comments