Brad Pitt has Angelina Jolie permanently inked on his body for all time. When lifting his hand to wave at fans, his shirt rode up to display a striking tattoo right above the waistband of his jeans.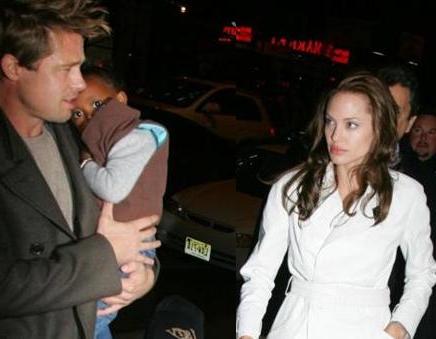 At that precise moment, fans of 'Brangelina,' worldwide began working to crack the code as soon as they saw it and had it broken down in a matter of hours.
Brad recently confessed all to foreign journalists on his overseas tour to promote his critically acclaimed film, "The Assassination of Jesse James."
Though even if he hadn't confirmed his new ink (stating it was 'for Angie') pictures do not lie. You could see his tattoo here and closer look here.
His famous six-pack abs have been permanently and romantically etched with Angelina Jolie's date of birth (06/04/75), written in Khmer, which is the first language of their oldest son, Maddox. The design appears as a striking and ornate scroll maybe two inches below Pitt's belly button, and according to speculation, the actor's new tattoo was a birthday gift to the love of his life.
Brad, anxious to lift Angelina's spirits was rumored to have snuck off and gotten inked right before Angelina's birthday, and surprised his lady love with the symbol of his devotion on her special day.