Chelsy Davy partied at a trendy London nightclub until the early hours of yesterday morning with the barmen, provided by a waitering service called Butlers in the Buff.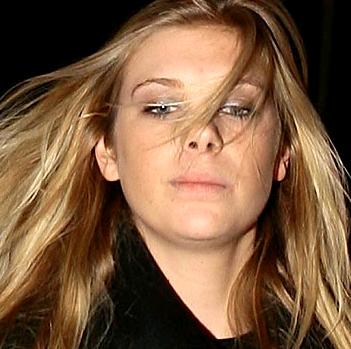 The 21-year-old student left at 3.10am she climbed into a waiting car with her friend Olivia Perry, nicknamed Bubble, began texting furiously and a few minutes later was being driven through the gates of Clarence House.
The late-night antics prompted fresh speculation that she may be getting back together with Prince Harry.
The blonde beauty had reserved two VIP tables at the newly refurbished 24 nightclub in the West End on Friday. She arrived shortly after midnight with Bubble and the pair wasted no time in heading for the bar.
She appeared to be having a lot of fun. However, the smoking ban caused a few headaches for Chelsy as she had regularly to leave the dance floor, make her way into a private courtyard and hide behind a green bin to have a crafty cigarette.
The onlooker revealed, "Chelsy was keen to get on to the dancefloor with the butlers and she and her female friends ended up dancing in between the semi-clad men and [email protected] female dancers on platforms. The happy house music was really getting Chelsy in the mood to dance and she didn't seem to mind that she was mingling with the [email protected] people."
Chelsy Davy, who was wearing a revealing black dress, was attracting a great deal of attention from the males in the VIP area.
Just before she left, Chelsy became particularly perturbed when a Prince Harry doppelganger became fixated with her while she waited near the bar.
The eyewitness revealed, "Chelsy got really fed up with the guy who was standing next to her. He was the spitting image of Harry and just stood behind her boring his eyes into the back of her head. Although she seemed quite put off by the attentions of the Harry double, Chelsy seemed quite cheeky to any other admirers that approached her."
When Chelsy eventually left the club, she had a heated exchange of words with Bubble. The pair left at around 3.10am and headed over to Clarence House, where they disappeared through the gates at about 3.30am.
A Royal spokesman revealed, "We don't comment on Prince Harry's private life and we would never comment on Chelsy Davy."
Comments
comments