He's used to being the one surrounded by helpful lackeys but Brad Pitt got a taste of the other side of life last night as he rushed to keep a burly sumo wrestler under cover in a rainstorm.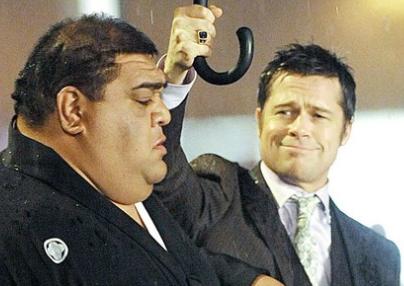 The film star was filming an advert with the help of the Japanese star in New York. Umbrella holder Brad Pitt helps keep a sumo wrestler dry while filming another commercial for Japanese cell phone company Softbank in New York City's Midtown neighborhood on Tuesday night (April 28).
A suited Brad helped the imposing wrestler out of a limo, holding an umbrella over his lofty head.
"In the commercial, it's raining and it looks like Brad is the bodyguard for a sumo wrestler," an on-set source revealed. "To simulate the rain, they had hoses propped up on cranes. The set looked amazing!"
His face a picture of mute acceptance, Brad was showered in the fake rain as he struggled to keep his co-star dry.
But his uncomfortable shower will at least result in Brad getting a hefty pay cheque.
It should come in handy – the father-of-six has several homes around the world to upkeep.
He and partner Angelina Jolie are currently renting a home in Long Island, New York, giving Brad plenty of time to check out the surrounding area.
The hunky actor is regularly seen shopping with daughters Zahara and Shiloh and was spotted with one of the couple's sons, Pax, five, at Niagara Falls on the New York-Canadian border over the weekend.
The pair took a ride on the Maid of the Mist boat which floats beneath the spray of the waterfalls – taking care to wrap up in raincoats.
Comments
comments