So… just what does it take to win the heart of Hollywood's hottest bachelors?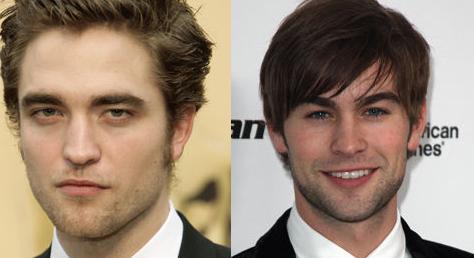 That's a question every starstruck fan has wondered while watching their favorite superstar strut their sexy stuff on the silver screen or on the TV screen. But it's a question no one ever seems to have the answer to.
Now, in the new issue of OK! — on newsstands everywhere Thursday — we bring you the exclusive, inside scoop on what these single superstars most desire, where you can meet them and what it's going to take to win one for yourself!
Get a taste for the A-list by checking out this exclusive online preview — and pick up the new OK! for even more men… and many more secrets!
ROBERT PATTINSON, 22
This British hunk is actually very shy. "He's not one of those people who can talk to [just] anyone," Rob's New Moon co-star Ashley Greene tells OK!. Should you run into the actor at his Vancouver hangout, Glowbal Grill, order a Peroni beer — the Italian brew is his fave. If the ice breaks, he'll invite you to play pool, his sport of choice.
KELLAN LUTZ, 24
To snag self-described chameleon Kellan (aka "Krazy'), try hitting up L.A.'s MyHouse club, which he frequents with pals. "It's fun to be single," the New Moon star, who previously dated 90210's Annalynne McCord, tells OK!. Kellan is fluent in Spanish, and likes to do his own stunts as vampire emmett cullen.
ADRIAN GRENIER, 32
You might encounter the Entourage star at Teddy's in L.A., Max Fish in NYC or even a house party. Open-minded Adrian "dates everyone" a source tells OK!, but, "he prefers outgoing girls." Be prepared to compete for mirror time. "He loves looking at himself."
IDRIS ELBA, 36
Co-star Ali Larter may be "obsessed" with him on screen but London-born Idris is focused on photography! "I love it," the divorced actor says. "In the future I would like to release a book of photos of the things that I've seen during my travels."
MILO VENTIMIGLIA, 31
The Heroes hottie (who recently split from co-star Hayden Panettiere) has a thing for younger blondes, a source tells OK!. But Milo isn't looking for a party girl. "He is a homebody and prefers someone with those values." The best place to find this Italian stallion? "A coffee shop or bar, in the back booth with his buddies."
GEORGE CLOONEY, 48
The handsome actor has been back on the market since his very public romance with cocktail waitress Sarah Larson ended in 2008. According to Steven Ward, host of VH1's Tough Love, George just needs a regular gal. "He's a magnet for attention. The only person who's going to be able to be with him is someone who isn't affected by all that," Steven tells OK!. "That's why he dates waitresses."
DAVID COOK, 26
Personality is key for this American Idol champ. "Nice, confident, funny — attractive's always a plus," David tells OK! about his ideal woman. "I'm just this goober who likes crosswords." His dream date? "Stay home, watch movies, order a pizza." And you'd better get along with his mom — he sent her on a cruise with his Idol winnings. "To send her somewhere where she didn't have to worry about anything was paramount," he tells OK!.
JOHN MAYER, 31
Think you've got better game than gals like Jessica Simpson and Jennifer Love Hewitt? Then good luck trying to make an honest man out of this musician — who is even rumored to have romanced new gal pal Scheana Marie by phone, while dating Jennifer Aniston. adjust your attitude to super-casual and saunter into one of his regular NYC haunts, Mexican restaurant La Esquina or exclusive lounge GoldBar.
CHACE CRAWFORD, 23
"I like to become friends with people before dating them," the Gossip Girl hunk tells OK!. Chace loves girls who make him laugh, and will hang at dive bars and throw back beers with him. He's a gym rat — perhaps to work off all the Ben & Jerry's he wolfs down. And listen up, cougars: "I've never had a relationship with an older woman, but I'd never say no," says Chace. What drives the Texan crazy? "Women who get mad but won't communicate why — they just start cutting carrots really fast in the kitchen."
Comments
comments