Brad Pitt and Angelina Jolie have worked their tails off to try and keep their private lives private.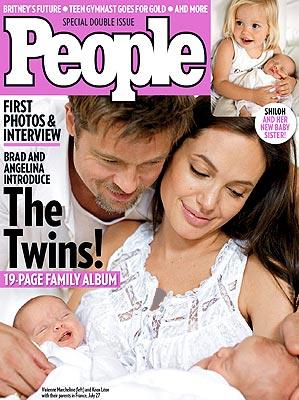 According to earlier reports they even had some very aggressive paparazzi removed and arrested when it appears they were trespassing on Brad Pitt and Angelina Jolie's leased property in France after a bitter battle with the photographers and the security team that guards the large estate.
It's a bit different in France than it is in the United States as far as paparazzi snapping away at celebrities like the Brangelina family. Ever since the horrific accident that killed Princess Diana and her boyfriend Dodi Al Fayed were killed from an accident in Paris Aug. 31, 1997, the debate is how far can the paparazzi go to get the ultimate shot at a celebrity.
That was the problem with the two photographers that were confronted by security guards and later arrested by police. The two had on camouflage gear and had the latest high powered and state of the art cameras to try and zoom in on the family. A fight broke out with the guards and the security at the estate and once the cops were called in, each side blamed the other for the confrontation.
There were a whole bunch of photos that were snapped of the couple outside the estate and Pitt's attorneys also threatened a lawsuit then according to a report from "The Smoking Gun."
The celebrity couple and their twins posed for the People's magazine cover. The twins Knox Léon and Vivienne Marcheline are just 3 weeks old, but they are about to take the world by storm.
In an exclusive interview and photos, Brad Pitt and Angelina Jolie offer an intimate look at their growing family.
Angelina Jolie shared the details of her daily life at the Château Miraval in Provence, France, where the couple's four older children, saying: "It is chaos, but we are managing it and having a wonderful time."
The kids have been enjoying a summer of outdoor play (hide-and-seek is a favorite) on the château's sprawling grounds.
Brad Pitt described the Château Miraval as "[It's] still a cuckoo's nest."
Fortunately, they already have some household helpers. Angelina Jolie added: "[Shiloh] and Z pick out [the twins'] clothes and help change and hold them. It's sweet – they are little mommies."
Comments
comments