Angelina Jolie and Brad Pitt caused more fan frenzy as they arrived at the Tokyo premiere of The Curious Case of Benjamin Button on Thursday.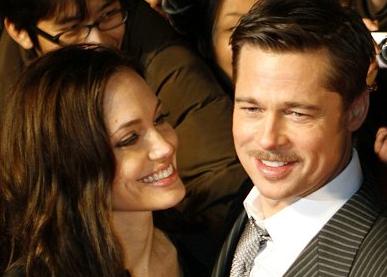 The two were barely apart as they walked the red carpet.
Angelina Jolie, who looked radiant in a body-skimming black wrap dress with puff-sleeves, signed autographs for fans and later wrapped her arms around Pitt and posed in photos with Button director David Fincher.
Brangelina, along with their six kids, arrived in Tokyo on Tuesday.
Japan is the latest Benjamin Button promotional stop for the pair.
Brad Pitt, who stuck to his usual grey suit – albeit this time pinstripe, said he doesn't mind all the globetrotting because it builds more buzz for his Oscar-nominated film.
The actor revealed at a news conference in Tokyo on Wednesday: "For us you know, it means that more people get to see it and I think it's a worthy film that deserves that kind of viewing — over and over again. Go see it three times and see it again."
He added his current life was as dramatic as his life in the film, which centers around a man who ages backwards, saying: "I have six children now so it doesn't get more dramatic than that."