"American Idol" runner-up David Archuleta is set to make his acting debut on an upcoming episode of "iCarly," according to Nickelodeon.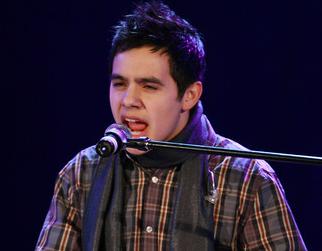 David Archuleta, 17, will also help kick off all-new episodes of "back-to-back, romance-themed primetime premieres" as part of the network's Pre-Valentine's Primetime Programming Event, "Crush Night," Feb. 7.
Nickelodeon said in a news release: "Archuleta, whose hit single 'Crush' is topping the Billboard charts, teams up with 'iCarly' headliner Miranda Cosgrove to celebrate teen romance as they host the night from the set of 'iCarly.'"
The "Crush Night" slate of programming includes special episodes of "iCarly," "True Jackson, VP" and "The [email protected] Brothers Band." David Archuleta is expected to sing "Crush" at some point during the night.
The "American Idol" runner-up said in a statement: "I was nervous and thought I'd be awful, but it felt really comfortable and came pretty easily since I was allowed to play myself. With 'iCarly' I got to hang out with kids my own age for a change, and that was a real bonus. I'm a huge fan of Nickelodeon's, and two of my favorite shows growing up were 'Kenan & Kel' and 'All That,' so it was especially cool to make my acting debut on a Nick show."
Comments
comments