Brad Pitt and Angelina Jolie took their children on a family outing to a New Orleans housing project. Perhaps visiting with local workers and residents is considered a family affair for the Jolie-Pitt kids as they catch up with Dad back at the housing project.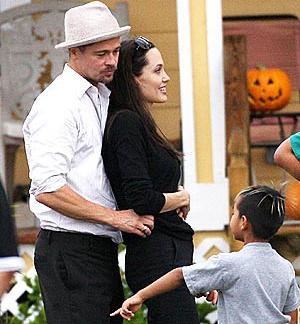 The Hollywood celebrity couple were accompanied by sons Maddox, seven, and Pax, four, but left their four youngest children at home.
The family have a home in the city's historic French Quarter and Pitt has been active in rebuilding homes devastated by Hurricane Katrina in 2005.
Brad Pitt has masterminded the Ninth Ward housing project, which is building 150 environmentally friendly houses for families displaced by the storm.
Angelina Jolie, 33, was reported to be suffering from post-natal depression following the birth of twins Knox and Vivienne in July, but she looked happy and relaxed as she toured the project.
In a recent interview, she confessed to wanting even more children, saying: "The thing about having six is once you've passed three or four, it's so crazy anyway that it's just more chaos and it's all okay. I feel so blessed that every day I wake up and I live with my favorite people in the world and my best friend."
She admitted that it was a struggle to keep the romance with Brad Pitt alive in a household full of children as she explained: "Even if we lock our door, the children come knocking. We often try to have a bath alone together at the end of the night and sit and talk, but they hear the water and want to jump in. But it's fun and lovely."
The "Brangelina brood" are currently dividing their time between New Orleans and Berlin, where Pitt is shooting Quentin Tarantino's new Second World War movie "Inglorious Bastards".
Comments
comments