Zac Efron, who previously revealed his struggles with film's dance moves, is recovering from an unprovoked attack that took place as he left a West End theater with girlfriend and fellow film star Vanessa Hudgens.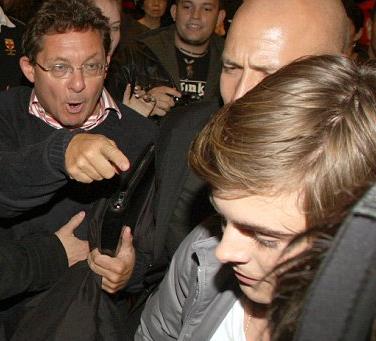 The star of the High School Musical was leaving the Apollo in Shaftesbury Avenue when a middle-aged man, who was thought to be a deranged fan, began shouting and pointing at him.
The bespectacled attacker, who was carrying a laptop computer under one arm, was then said to have lunged forward and tried to grab his hair.
The startled 20-year-old actor, who plays Troy in the hugely successful Disney film franchise, is usually followed by crowds of swooning teenage girls. Perhaps the incident of being attacked by a middle-aged man appeared to be the downside of fame.
An onlooker revealed: "Some guy was just stood near the door where Zac and Vanessa emerged. He just reached over and grabbed the side of Zac's head. There was no provocation. It all turned into a bit of a mess."
The onlooker added: "He was shouting all kinds of things at Zac. Their security team eventually dealt with it. They had to bundle Zac into a car, but at one point it looked as though the man was going to be pushed into it with him."
Zac and his co-stars were later spotted eating together at the Floridita restaurant in Soho.
A fellow diner revealed Zac appeared to have put the earlier incident behind him, adding: "He was quite relaxed and looked like he was enjoying himself. Some of them were dancing to salsa music, so they must have put the scuffle out of their minds."
Fortunately, Zac was not hurt, the man was spoken to by security staff at the scene, and the attack was not reported to police.
Comments
comments