Paris Hilton is continuing her bid for the White House.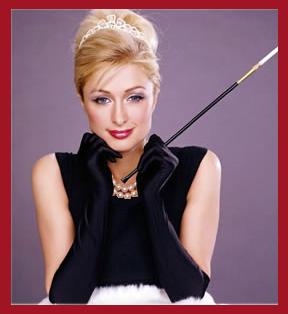 The paparazzi darling and reality television star touted her candidacy in a video on FunnyOrDie.com Wednesday — her second appearance in a political spoof on the site.
Paris Hilton called Martin Sheen as "one of our greatest fake presidents" and she declared: "Running for fake president is a little daunting. Being a fake president is a lot harder today than it was when I was a fake president."
Martin Sheen has often played American presidents, most notably on TV's "The West Wing."
Paris Hilton talks with Sheen about "Fo Po" — "Foreign policy, silly" — and shares what could be her real views on the economy and the war in Iraq.
The socialite said: "Iraq has a Democratic government that is asking for us to leave. It seems that we've done our job and we should bring our troops home safely."
Economically, "this is the biggest depression since 'The Notebook,'" Hilton says, adding that the government should "lower inflated interest rates so it's not impossible for (people) to pay their mortgage."
As Sheen tells Hilton she's "going to make a great fake president," his son, Charlie Sheen, pops in with a promise to "fake vote" for her.
Paris Hilton bids the elder Sheen farewell with a kitten-voiced, "Bye, sexy," then tells the camera: "See you at the fake inauguration."
The 27-year-old hotel heiress said in a statement that she hopes the video inspires people to consider the issues and vote in the real presidential election.
The socialite added: "I hope that my political opponents take in consideration the points that I have addressed because I feel that they are important and, as well as, that my generation and the new young voters should become more involved with our current issues and speak their voice through voting. This is the most important presidential election in decades and voting is the only way that you have a voice for change."
Comments
comments