Have Brad Pitt and Angelina Jolie gone suburban? It sure seems that way to the residents of the Long Island town of Oyster Bay, N.Y.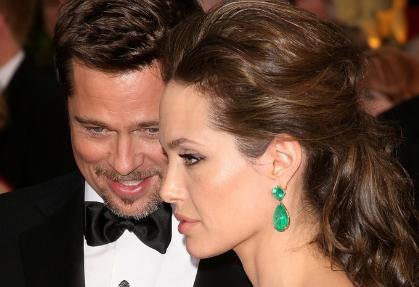 Recently the celebrity couple have been spotted grocery shopping at Stop & Shop, grabbing food at Dunkin' Donuts and picking up supplies at CVS – and they're causing jaws to drop wherever they go.
"When you talk to someone who has met them they're kind of glowing," Oyster Bay Town Supervisor John Venditto said. "People love saying they saw them. They feel something very special happened to them."
Venditto adds that everyone who has interacted with the famous family – who are temporarily living in an expansive home overlooking the bay – describe them as being friendly. "The reaction across the board seems to be, 'Wow, they're very nice people.' It seems that people like them and like having them here."
Katherine Pastore, a manager at the local Stop & Shop, agrees. She spotted the celeb pair in the store on April 18 with daughters Zahara, 4 and Shiloh, 2 ½. "They looked out of place because they were so beautiful," says Pastore. "They looked like they were airbrushed when they were walking. I went up to Brad and asked if he needed help and he said, 'No thanks.' I was looking at him but I don't really remember it – it was like a dream."
Pastore says the stars acted like regular shoppers, walking the aisles – each pushing a daughter in a shopping cart – and buying items such as pre-sliced watermelon, nuts, tuna fish and toys.
"They were very attentive with their kids. Brad was rubbing Zahara's back and Angelina was comforting Shiloh when she got a little upset. It was sweet," adds Pastore.
Pitt, 45, and Jolie, 33, might have been calm – but other people in the store were less than cool. "They must have started calling and texting their friends because people were running up the block to see them," says Pastore. "I saw a bunch of teenage girls running to get in here."
Pastore says that after the family left, the store was electrified for the rest of the evening. "All the other customers were just like, 'Oh, they were here!' It's the big buzz of the town. We have had celebrities in before and it's exciting, but these are the most famous people in the world!"
Jolie also caused a stir when she visited the local CVS. "She was in my aisle and everyone was kind of looking at her or going up to her," says local resident Alex Reckert. "She looked great. She had on these leggings and sunglasses and signed a few autographs."
So, what does Reckert think of having Hollywood's most famous family staying in Oyster Bay? "It's kind of cool that they're in town," she says. "It's a pretty small place so everyone is talking about it."
Comments
comments