Jennifer Aniston and Jason Bateman spent Monday making out in New York City – despite the CDC's warning against kissing – all in the name of their craft.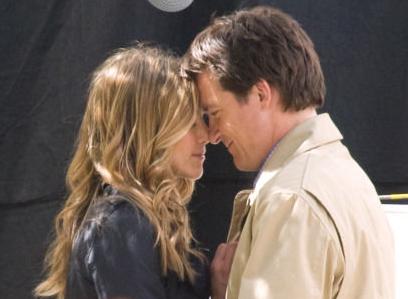 The pair are currently filming "The Baster" in the Big Apple, in which Aniston's character decides to have a baby with a sperm donor, only to have a friend (Bateman) swap the anonymous sample with his own as he is secretly in love with her.
Jennifer later slipped into a figure-hugging red dress which revealed her toned back.
Teaming the dress with a simple pair of flip flops, she looked happy and relaxed as she filmed her scenes.
Meanwhile, Jennifer is eager to move on and has apparently set her sights on hunky Scottish actor Gerard Butler, who played the muscular King Leonidas in the 2006 epic 300, and plans to star in two back-to-back movies with him.
She is due to direct and star in Goree Girls, a movie about an all-girl country and western band who become a hit while in jail.
And she has asked Butler to star alongside her. She is also keen to book 39-year-old Butler on another as yet untitled movie later this year.
A source revealed: "Jen has said they have fabulous chemistry and would be great on screen together. She's put tremendous pressure on her agent to get these projects to go ahead."
Gerard has previously dated Cameron Diaz and Naomi Campbell and is now rumored to be romancing 26-year-old Bollywood star Priyanka Chopra, a former Miss World.
Comments
comments