After enjoying an intimate dinner with 60, Brad Pitt and Angelina Jolie enjoyed a late date night Wednesday in Cannes.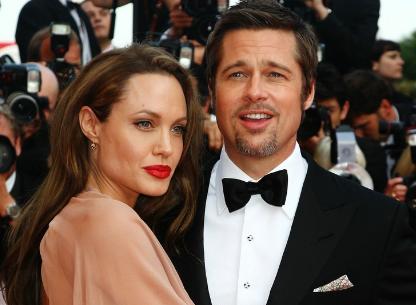 The duo made a low-key entrance at the after party for Pitt's film Inglourious Basterds at Baoli Beach, where they both sipped drinks (a Baileys for him, vodka for her), chatted with cast members and engaged in some PDA until past 1 a.m.
"Towards the end of the evening they sat together, his hand on her leg," according to a source, adding that at one point Pitt had his arm wrapped around Jolie as they laughed and whispered into each other's ears.
When they weren't side by side, Pitt made the rounds at the Belstaff-sponsored party, greeting several guests during the couple's two-hour stay. Meanwhile Jolie, who earlier in the evening made a fashionable appearance at the film's premiere, remained seated and nibbled on strawberries while chatting with Eli Roth, Pitt's Basterds costar, who danced on the deejay stand, much to the couple's amusement.
The film, which boasts a cast including Diane Kruger and Mike Myers, has earned mix reviews so far.
Variety calls the movie "a violent fairy tale … by turns surprising, nutty, windy, audacious and a bit caught up in its own cleverness, the picture is a completely distinctive piece of American pop art with a strong Euro flavor that's new for [director Quentin Tarantino]."
The Hollywood Reporter, however, is a bit more critical, describing the film as a project that "merely continues the string of disappointments in this year's Competition [at the Cannes Film Festival]. The war flick is also slammed for having very little action and lacking "not only tension but those juicy sequences where actors deliver lines loaded with subtext and characters drip menace with icy wit."
Comments
comments