Brad Pitt and Angelina Jolie showed off their baby twins Knox and Vivienne for the first time as the Brangelina brood flew in to Japan.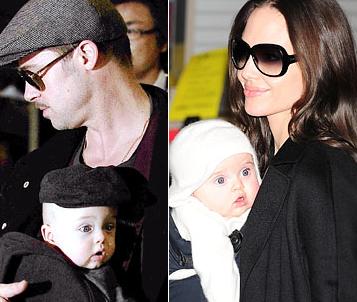 Brad Pitt clutched six-month-old son Knox, who proved he had inherited his father's fashion sense. The pair wore matching grey sweaters and flat caps for their arrival at Tokyo's Narita International Airport.
Angelina Jolie followed behind with Vivienne, who was nestled in a sling and dressed in a white cashmere hat. The couple's other four children – Zahara, Pax, Maddox and Shiloh – were with them for the trip.
It is the first time the twins have been seen in public. Pitt and Jolie sold pictures of the babies to a magazine for a $14 million fee, which was donated to their charity foundation.
The family are in Japan for the premiere of Pitt's new film, The Curious Case of Benjamin Button.
They flew in from Los Angeles, where the couple attended the Screen Actors Guild Awards but left empty-handed. They are also up for acting awards at the Oscars next month, but neither is favourite to win.
Angelina Jolie disclosed before Christmas that they are planning to adopt a seventh child, and said the other children would be unfazed by yet another addition to the family.
She explained: "We have so many children that they are not really stunned any more when kids come home."
Comments
comments