Brad Pitt and Angelina Jolie showed some PDA at France's Cannes Film Festival Wednesday.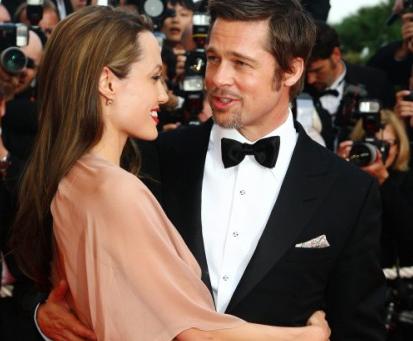 The couple couldn't keep their arms off each other on the red carpet for Pitt's premiere of the Quentin Tarantino flick, Inglourious Basterds.
Pitt held Jolie's hand as they made their way to the expansive carpet at the Palais Des Festivals. The duo then alternated between wrapping their arms around each other and gazing into each other's eyes as they posed for the cameras. They never left each other's sides.
Jolie donned a cream-colored Versace with a slit nearly up to her waist, while Brad Pitt went for the retro look in a cream suit, grey carvat and facial hair in an outfit designed by Tom Ford.
Also at the premiere: Robert Pattinson, who chatted with Jolie and Pitt last night at a dinner for Basterds.
"They spoke in the hallway. It didn't seem like they knew each other that well, but the conversation was friendly," a restaurant source revealed earlier today. "Brad shouted back to Rob, 'Go inside and get something to eat.' They all seemed happy."
Brad admitted he only agreed to star in the film after a crazy night in with Quentin.
He said: "Quentin came to visit some time at the end of the summer, we talked about back story, we talked about movies. I get up the next morning and see five empty bottles of wine right on the floor. Five. And something that resembles a smoking apparatus – I don't know what that was about – and apparently I had agreed to do this film."
During a live interview with U.S. breakfast show, Brad attempted to skirt around the issue of Angelina.
He said: "Right now, Ange has been working and I've got to be home a lot with the kids. Er… let me be a cliche. It's really rewarding."
When asked where he was heading, Brad didn't mention marriage or Angelina, but said: "Discovery, finding new things of interest and the kids certainly are responsible for a lot of that."
Angelina was busy filming her new action thriller Salt over the weekend and stopped off in the Netherlands on her way to Cannes to attend the trial of Congolese warlord Thomas Lubanga Dylio, who is accused of using child soldiers.
Comments
comments