Are there boundaries to declaring the next "American Idol" champ early? Apparently, nothing can contain the likes of Adam Lambert _ not even a difficult new ballad co-written by Kara DioGuardi.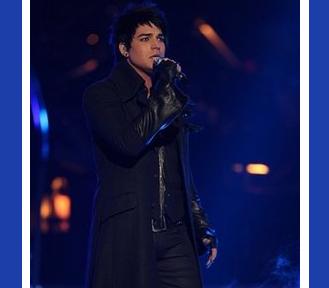 Simon Cowell all but crowned the California glam rocker the winner of Tuesday night's final performance show over Kris Allen, the acoustic guitar player who struggled mightily to stay in tune on "No Boundaries," co-written by the fourth "Idol" judge.
Lambert had no such trouble with the upper-register pop ballad, and Cowell said he genuinely believed the show had found a true star in the 27-year-old theater actor.
The judges were visibly deflated following Allen's version of "No Boundaries" _ each was noncommittal, choosing to sound as if saying farewell to the 23-year-old heartthrob from Conway, Ark., rather than criticize his less-than-pitch-perfect performance.
"You have thoroughly, thoroughly deserved to be standing on this stage tonight," Cowell told Allen, who wore a slightly pained expression, as if he realized he'd missed the mark on that song.
Allen, a college student who has worked as a worship leader at his hometown church, told host Ryan Seacrest that he and Lambert aimed to forget competition and put on a good show. Still, that didn't keep Lambert from bringing his A-game, making Allen pale in comparison.
The two performed three songs apiece: a favorite past performance from this season; a tune selected by "Idol" creator Simon Fuller; and last but not least, DioGuardi's "No Boundaries."
For his first song, Lambert sang one of his greatest "Idol" hits, wearing a long, dark coat during the brooding arrangement of "Mad World" featured in the cult movie "Donnie Darko." While generally well-received, Cowell declared his goth getup to be too much, and a more conservatively dressed Allen followed up strong, reprising his rendition of "Ain't No Sunshine" on piano.
Cowell unequivocally declared Allen the "winner" of the first round.
"When your name was announced last week, I wasn't sure that America had made the right choice," Cowell said. "I absolutely take all that back now after that performance."
But Lambert easily bounced back for Round Two. He replaced his gloomy frock with a suit and tie for the second round of the sing-off and performed the Sam Cooke classic "A Change Is Gonna Come." The effect was soulful and propulsive, flaunting Lambert's vocal range and theatrical delivery.
"That was the best I've ever heard you sing _ ever!" crowed Paula Abdul.
Next up, Allen turned to his trusty guitar for the Marvin Gaye tune "What's Going On."
Cowell dismissed the interpretation as lightweight, saying it sounded like "three friends in their bedroom strumming along to Marvin Gaye. … I thought it was too laid-back for a night like this." He then gave Round Two to Lambert.
Both singers had rough spots in the swelling ballad co-written by DioGuardi, but where Lambert capably rose to the high notes, Allen failed and fell flat; it was clear from the look on his face that he knew he'd been beaten.
Though Cowell made no declaration of a winner for the final round, it was clear from the entire panel's concessionary remarks that they knew it, too.
But this is "American Idol," and America decides.
The winner will be named on Wednesday night's final results show.
Comments
comments