Brad Pitt and Angelina Jolie only recently denied that their relationship is in trouble. But if their living arrangements are anything to go by, it seems all is not well in team Jolie-Pitt.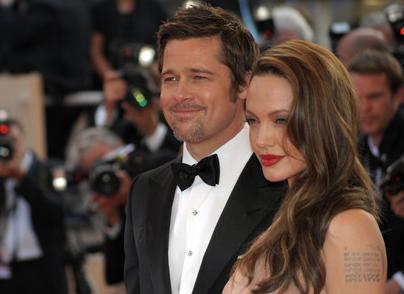 In sprawling Long Island estate where the couple have been staying for the past four months, Brad and Angelina have chosen to sleep not just in different bedrooms but in different houses.
The couple moved into the 24-acre Seacroft Estate when Angelina started work on the spy thriller Salt in February.
They and their six children, together with their 18-strong entourage, easily filled the estate's ten-bedroom seafront house and surrounding eight outhouses.
A source in Long Island revealed that the actress would often stay alone at the beachfront villa without her 45-year-old lover, saying: "They would often sleep as far away from each other as possible, not even in separate bedrooms but in separate houses. Angelina spent most of her time in one of the annexes while Brad lived in the main house with its ten bedrooms. He wasn't actually there for much of the time, which upset Angie and caused major ructions in their relationship."
Another source said: "Brad's not there and no one knows when Angelina is leaving. With all the kids and their work commitments, they both have a lot on their plate and it's a bit like a pressure cooker. There have been several explosions."
The revelations that the couple slept in separate quarters will further fuel speculation that their romance is on the rocks after four years together.
Although they stepped out together at last month's Cannes Film Festival, Hollywood sources say it was a staged show of togetherness.
"The truth is there have been a lot of upsets behind the scenes," said one. "Angie has been working really long hours on her movie and Brad hasn't been there (in Long Island) all that much. It's put a huge strain on them. Things definitely haven't been helped by reports in the States that Brad has met up with Jennifer Aniston, his ex-wife. Although there's no proof they met, he's certainly been in touch with Jen, which has sent Angelina over the edge."
According to one source who has visited the extensive Long Island estate, "The main house was very large and frightened the children. They were scared of the suit of armor especially. They only liked to stay in the main house when Brad was there otherwise they were with Angie, who always stayed in the beachfront villa."
Angelina, who celebrated her 34th birthday last week, returned to work shortly after giving birth to twins Knox and Vivienne, who are just ten months old.
The couple also have adopted children Maddox, seven, Pax, five, Zahara, four, and a biological daughter, Shiloh, who is three.
Sources on the set of Angelina's movie Salt say she has looked stressed and painfully thin even though she has insisted on carrying out many of her own stunts.
Just last week she suffered a minor head injury during the final days of shooting and was taken to hospital. Brad was in LA for a TV awards ceremony.
A source said: "That sparked a big row. Angelina was pretty upset that Brad was having a good time while the world was watching their relationship and she was recovering. Now that Angelina's movie is about to wrap she is planning on heading back to LA and spending some quality time with Brad. She is desperate to try to patch things up, but Brad is feeling like he needs some time and space to work things out. Because of their hectic traveling schedules, they have actually not seen much of each other."
Pitt has traveled to Washington, LA, Louisiana, France and Berlin in recent months and is set to start work on his latest movie Moneyball in California.
Meanwhile Angelina is expected to travel to the South of France where the couple will rent a chateau later this summer.
A source added: "The plan is for Angie to go back to LA, spend some time with Brad and then travel to the South of France at the end of July. She also has some work lined up with the UN, for which she is a goodwill ambassador. That way Brad can focus on his work and she can spend some time with the children."
Neither Brad nor Angelina's representatives chose to comment last night.
Comments
comments