Brangelina and Maddox were seen having a dinner at Katsuya restaurant in L.A. on Saturday night. Perhaps their dinner is for a little pre-nonexistent Golden Globes celebration.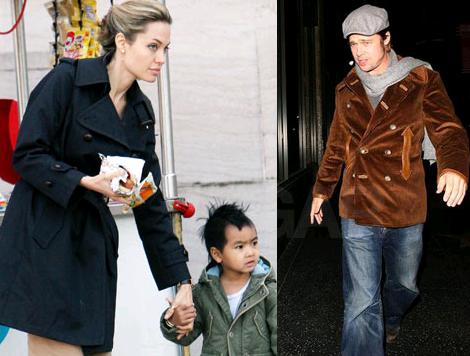 Brad Pitt was fresh from a day in the wind tunnel and back in his favorite hat. Angelina Jolie lost her nomination in Best Actress Drama category to Julie Christie.
Meanwhile, Angelina Jolie was reported to be desperate to have a second biological child. So much so, she's even telling her people to schedule upcoming press tours around a possible pregnancy.
According to a studio insider, Angelina's camp has told studio executives that the actress "would not be available on some dates" to promote her upcoming film "Wanted", due out this June.
The source told the reason, saying, "Angelina is focusing on trying to get pregnant and to hopefully be pregnant around the time of the film's release."
Brangelina welcomed the birth of baby Shiloh in 2006. The celebrity couple has three other adopted children, Maddox, Pax, and Zahara.
Comments
comments