Brad Pitt, Angelina Jolie and their kids previously visited to Brad's hometown Springfield, Missouri.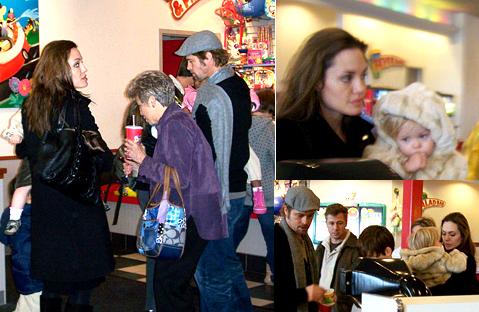 On January 4, Brangelina and their kids popped by the local Chuck E. Cheese's. Along with Pitt's family (including several nieces and nephews), they feasted on pizza and played arcade games during the two-hour-plus visit. Pitt even doled out game tokens.
A fellow diner revealed, "Brad was surrounded by a bunch of girls and boys. Angelina was holding Shiloh. She was so cute!"
A source revealed, "They like Springfield because no one ever bothers them."
The world travelers, who spent a few days in the Midwestern town before hitting the Critics' Choice Awards Monday, were cozy with each other and relaxed with his family.
On January 2, the party of 16 — including Brad Pitt's parents, Jane and Bill; computer-shop-owner brother Doug, 41, and his wife, Lisa; stay-at-home-mom, sister Julie, 38, and her husband, Rob; and the Jolie-Pitt kids and their cousins — popped by Arris' Pizza, a Pitt family haunt, for barbecue chicken and veggie and plain pies.
Tani Kramer, the co-owner, revealed about the four kids of Brangelina, "The kids were so polite." According to her the four kids, whom Mom and Dad made sure said "please" and "thank you," has great parents saying, "Brad and Angelina are great parents."
The celebrity couple was recently spotted during the 13th Annual Critics' Choice Awards in California. Angelina Jolie looked glamorous in a tight-clinging black dress as she attended Brad Pitt.
Comments
comments