Britney Spears is featured on the cover of OK! magazine's latest issue along with her toddlers.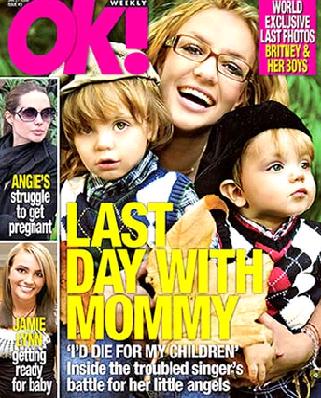 The family photo, the first to be published, looks heartwarming but surreal considering what has transpired since it was lensed. The photos were taken Britney Spears has done nothing to improve her chances to regain custody but done enough to temporarily loose it.
Dani Brubaker, the photographer, revealed about the photo shoot, "She was very loving. She told me she loved her children and that they are her life. I'm told that when she saw the photographs she literally cried for over an hour and stared at them all night long."
A friend of the singer revealed, "Those boys are her everything, and she's said repeatedly that life isn't worth living if she can't have her babies with her."
Meanwhile, Britney Spears' aunt Chanda McGovern said that the troubled pop star "needs to be on suicide watch," saying, "I'm truly, truly concerned. I don't think things can get any worse now than us losing her completely."
Britney Spears' family understands that the troubled pop star is mentally ill and needs to be treated but Britney Spears is not ready to heed their advice.
An insider revealed that Britney's father Jamie suggested hospitalization to Britney while leaving Cedars-Sinai Medical Center but "she freaked out." She said, "'Now you want me to go to rehab again? I don't need to be locked away!'
Another source revealed that Britney is aware she needs treatment but is reluctant to seek it because it could jeopardize her chances of regaining primary custody of her toddlers. Her meltdown was triggered by her deposition. Kevin Federline lawyer Mark Vincent Kaplan's questioning rattled her.
The source said, "Britney realized when Kaplan started firing off questions about her mothering skills that no matter what she said or did, she was going to lose her children, as every word she was saying could be taken out of context or used against her." When Britney returned home "something inside her snapped and made her realize that she could very well lose custody of her children, forever."
Comments
comments