Angelina Jolie isn't sobbing now that the Golden Globes are canceled, saying, "I'm not [upset]. I'll just be home with my kids. It's all right."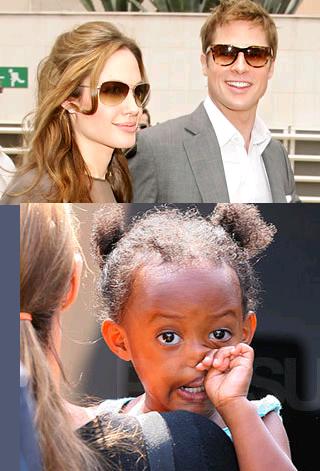 The "Good Shepherd" actress rocked the red carpet with Brad Pitt recently. And she didn't seem to mind when "A Mighty Heart" Best Actress nominee lost out to Julie Christie. The "Babel" actor, who wasn't wearing his usual newsboy cap, didn't take his arm off Angelina Jolie's shoulder all night.
An onlooker revealed, "They were laughing and whispering and chatting with pals like Don Cheadle."
An eyewitness added that Brangelina is "the most loving and attentive I've ever seen them. They were completely infatuated with each other."
On the low-key getaway, which included dining at local pizza pie joint Arris' Pizza and Chuck-E-Cheese with Pitt's entire family, the 32-year-old actress revealed, "I had a nice time."
Meanwhile, Zahara, who is the adopted daughter of the celebrity couple known as "Brangelina", turned three on January 8. She was adopted in Ethiopia in 2005. Her name means "flower" in Swahili.
At that time they adopted "Z," Angelina Jolie revealed, "She was 6 months old and not 9 lbs. Her skin, you could squeeze it, it stuck together. It was terrifying," After Brangelina took the baby, the actress continued, Zahara "gained 6 lbs. … We are calling her chubby. She's, you know, she's just a totally different baby."
Comments
comments