Disappointed Brad Pitt and Angelina Jolie made a quick exit from the awards ceremony after missing out on gongs and arrived back at their hotel to find four of their kids running riot.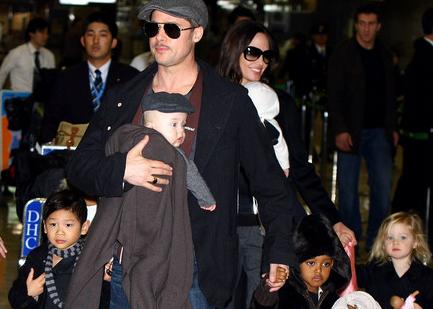 Other guests at London's plush Dorchester Hotel – where luxury double suites cost more than £4,000 a night without breakfast – had complained about the noise.
Brad, 45, nominated as Leading Actor for The Curious Case of Benjamin Button, and Angelina, 33 – in the running for Leading Actress over Changeling – booked almost the entire third-floor of the Park Lane hotel.
They told Maddox, seven, Pax, five, Zahara, three, and two-year-old Shiloh they could play outside their suite under supervision from their nanny.
But one fed-up guest, who asked not to be named, moaned: "They were running up and down the hallway for over an hour."
The guest added: "Their nanny tried to quieten them down and move them out the way when people came through. But she had her hands full with the four of them."