Brad Pitt and Angelina Jolie are usually right on the edge of marriage or a break up and friends are now saying its the latter, according to a report from In Touch. The magazine claims that behind the scenes, Brad Pitt and Angelina Jolie are having serious problems.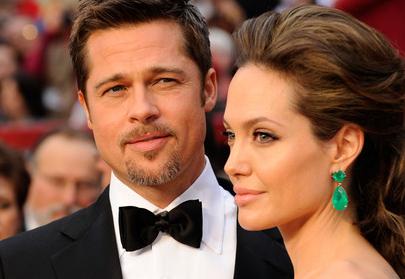 "But you'd never know it, considering how loving and affectionate they are when they appear at red carpet events together all over the world. "Sure, they look happy in photos," a family friend tells In Touch. "They are actors and can turn it on for the cameras most of the time." But as they've added kids to the family, their problems have gradually gotten worse. And they're increasingly having a harder time always putting on a happy face in public. "The cracks in their relationship are getting deeper and deeper," says the family friend."
According to the cover story for this week's issue that has a solo photo of Pitt on the cover with a screaming 'Brad Moves Out' headline adds that he is "especially tired of Angelina's selfish behavior, Brad stormed out of their rented mansion on Long Island, NY, just before Easter, after the couple got into a big argument."
"He told her very clearly that he just can't live with her anymore," a friend tells In Touch. "He said it was over. He was like, 'I'm outta here,' and left." Then on April 9, Brad flew to their $70 million estate, Chateau Miraval, in France, and packed his belongings. "He said he was there to check on renovations," a local tells In Touch. "But he was really picking out personal items and pieces of art he wanted removed from the property."
Meanwhile, yesterday (April 22) Brad Pitt was spotted getting ready to take some flying lessons in New York.
The "Fight Club" stud looked focused as he approached the single-engine plane, giving it a good looking over before hopping inside and flying off. Previously, Pitt has taken helicopter flying lessons in the Czech Republic.
An insider told press, "Sure, the look happy in photos. They are actors and can turn it on for the cameras most of the time. The cracks in their relationship are getting deeper and deeper. He told her very clearly that he just can't live with her anymore."
Comments
comments