During 'American Idol' result show, David Archuleta sings 'Touch My Hand', Thelma Houston delivers "Don't Leave Me This Way", and Harry Wayne 'KC' Casey performs "Get Down Tonight".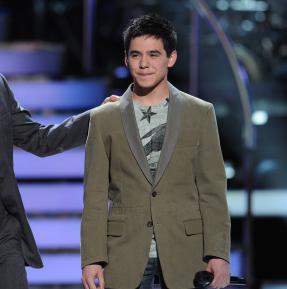 David Archuleta appeared on "American Idol" stage on April 22, singing "Touch My Hand" at the result show of the FOX's reality singing competition. He took the stage near the end of the show before Anoop Desai was eliminated.
Other musical guests at the result show were Freda Payne, Thelma Houston and Harry Wayne Casey of KC & The Sunshine Band. During the night, Freda sang a medley of several songs, which included "Band of Gold", Thelma delivered "Don't Leave Me This Way", and Harry performed "Get Down Tonight".
In addition to the live appearances from those stars, the Idol stage was also glittered with a performance from the 5 remaining contestants, Matt Giraud, Allison Iraheta, Adam Lambert, Kris Allen and Danny Gokey, as well as 2 just-booted contestants, Anoop Desai and Lil Rounds. They were dancing and singing to Jackson Five's 1979 hit single "Shake Your Body (Down to the Ground)".
Comments
comments