Noticeably absent have been the couple's two youngest kids, twins Vivienne and Knox, who'll turn 1 on July 12.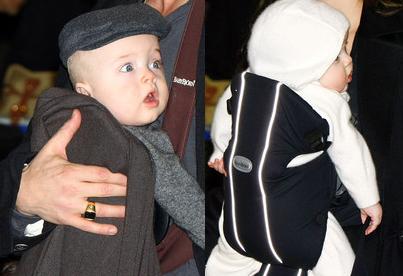 In fact, the twins have been spotted in public only once since January: when they were rushed through an airport near Tokyo while being closely guarded by their parents. Since then, they've remained in hiding — leading to speculation that something could be wrong.
Brad and Angelina have been seriously concerned about the twins' health. The babies are suffering from serious digestive problems, says an insider close to the family.
"They're both hypersensitive," the insider tells Life & Style. "Knox has trouble holding down his food. He spits up nearly every meal." Vivienne, meanwhile, has food and environmental allergies, explains the insider: "Right now, she's on a lactose and gluten-free diet, and she's still underweight."
Angelina, 34, and Brad, 45, have been so worried, they've had the twins undergo genetic testing and have been adamant about keeping them behind closed doors. In truth, the real reason Brad and Angelina have been reluctant to take the twins out has to do with their own fears, says the insider. "Because of their delicate state, Knox and Vivienne need to be kept away from anything they could possibly be allergic to," the insider explains. "That's a lot easier to do when they're home and in a controlled environment."
Comments
comments