Despite complaints from Adam Lambert, an independent music label is defending its decision to release music from the singer's pre-American Idol days.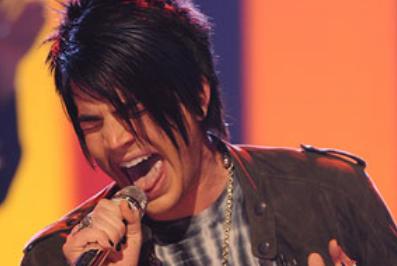 Before auditioning for the hit Fox show, Lambert spent three years recording songs for Los Angeles-based Wilshire Records. Lambert was angry when he learned that the label teamed up with Hi Fi Recordings to release an 11-track album, On With the Show, featuring his early works later this summer.
"The work I did back then in no way reflects the music I am currently in the studio working on," Idol producer 19 Entertainment said in a statement this week on behalf of Lambert.
But a Hi Fi Recordings representative exclusively said: "Adam is now enjoying the success that he and Wilshire Records hoped for. However, he is now represented by high-profile companies who released a statement in Adam's name saying the songs on On With the Show were recorded four years ago and Adam only contributed vocals. This is simply not true. The songs were recorded in a professional recording studio with top notch musicians and producers since the music was always meant to be released. Of the 11 songs that will appear on the album, On With the Show, Adam co-wrote eight with Monte Pittman (Madonna's guitar player)."
The representative added: "As co-writer and performer, Adam will receive significant royalties just as any superstar artist would. He has the chance, finally, to make a fortune for his work — definitely more with this album than through a major label deal. This pre-Idol work is a fantastic representation of who Adam is and what inspired him during the months before he became famous. We intend to see that Adam will still benefit from the success of 'Want' (on iTunes now), and from the sale of On With the Show, even though he is now part of a major franchise that only wants fans to hear the music Adam records for them."
Meanwhile, there is a video surfaced on youtube showing Adam Lambert singing at his 2000 HS Graduation, showing off the golden pipes when he was a little more blonde and a little less "fit".