A park bench featuring a sculpture of a nude Angelina Jolie with her infant twins is to be unveiled in Oklahoma to promote World Breastfeeding Week.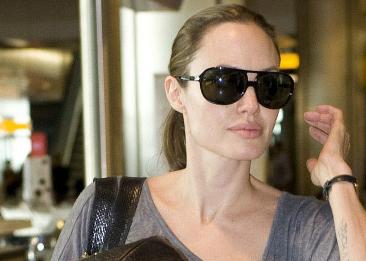 The Oscar-winning actress is the mother of six young children, the youngest of whom are twins who turned 1 this summer.
Phantom-Financial announced Tuesday the sculpture by New York artist Daniel Edwards will be installed just minutes away from the birthplace of Jolie's partner, Brad Pitt, in the Oklahoma City Metro area in September before its fall exhibition in London.
"Landmark for Breastfeeding" was inspired by last year's cover of W magazine, featuring Jolie breastfeeding one of her babies. The sculpture depicts a seated nude Jolie double-breastfeeding twins.
"We believe the statue sends a beautiful message by promoting the acceptance of public breastfeeding. Mothers should be encouraged to nurture their babies anywhere," Sandy Wilson of Phantom-Financial said in a statement.
"La Leche League International and Loretta McCallister have been very helpful," said project coordinator Cory Allen. "We are applying for approval to put 'Landmark for Breastfeeding' on permanent display in a Metro area park."
The Jolie monument is to be unveiled Sept. 11 at MAINSITE Contemporary Art in Norman, Okla.
Meanwhile, Angelina Jolie dropped off Vanity Fair's best dressed list this year.
Brad Pitt was named for the third year in a row — although in 2007 and 2008, he appeared in the "couples category" with Jolie.
The September issue of Vanity Fair hits newsstands on Aug. 11.
Comments
comments