Looks like actors Breckin Meyer and Zac Efron wanted to show blogger Perez Hilton that he's not the only one who can post an awkward video rant to the Internet.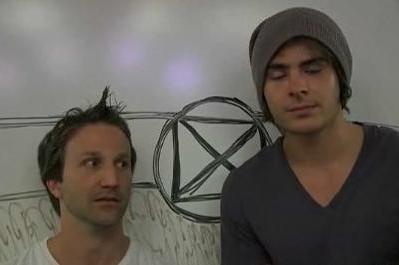 Parodying Hilton's already-infamous shout-down to Black Eyed Peas front man Will.i.am earlier this week, which detailed an alleged scuffle between the two in Canada over the weekend, Breckin posted his own anti-Zac vid to FunnyOrDie.com.
In the video, Breckin speaks his mind as he launches into a tirade against the High School Musical star for a ridiculous incident at a skate park.
Meanwhile, Zac Efron was spotted as he keeps his luscious locks under wraps while leaving a Burbank, California, studio on Tuesday. The heartthrob was filming an episode of the sketch comedy series Robot Chicken with actors Seth Green and Breckin Meyer.