Britney Spears suddenly collapsed during a recent rehearsal — and a doctor was rushed to her side, it has been claimed.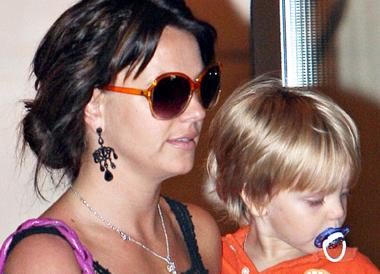 The Toxic singer was apparently rehearsing new songs when she passed out as the dancers, as part of the routine, lifted her body while she lay sideways.
"She collapsed when the dancers went to put her back on her feet," a source told American tabloid the National Enquirer.
"She fell to the floor and landed on one of the dancer's legs — and the dancer's tennis shoe smacked Britney in the chest and on her face. It hit her chest with such a force that it caused a four-inch bruise."
Everyone rushed over to Britney, and they realized she had fainted. Her father Jamie ended the rehearsal and immediately called a doctor.
Britney apparently suffers from low blood sugar — a condition her father Jamie has been trying to keep secret, the Enquirer reports.
Although Spears, 27, is said to be physically strong, those close to the pop princess say she often doesn't eat right or get enough rest. Plus, she's under a lot of stress from the tour.
"Her schedule has wreaked havoc on her body," the source divulged.
Meanwhile, continuing her massively successful Circus World Tour, Britney Spears was spotted out in Paris, France July 8 afternoon.
She was joined by her son Jayden James as she left the Hyatt Grand Champion resort, looking a bit worn out as she hid behind an oversized pair of sunglasses.
Comments
comments