Britney Spears enjoyed a [email protected] romp in a hotel swimming pool after her video shoot.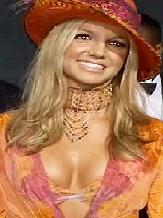 The troubled pop singer shocked onlookers by downing cocktails before stripping [email protected], diving into the pool and simulating sex with an extra from the video at Los Angeles' Standard Hotel.
Matt Encinias claims Britney was intent on seducing him all evening and straddled him as they passionately kissed in the pool just hours after meeting.
He revealed, "Britney was drinking mojitos and Jack Daniels. She was the first one to undress, and then everyone else followed. I turned around and saw that she was topless and she had fake tattoos of flowers on her nipples from the shoot. Her assistant said Britney wanted to make out with me. Britney straddled me and put her legs around me. I was feeling her breasts and kissing her on the neck. Her body was very nice. It was sexual and sensual kissing. She is a phenomenal kisser. I was dared to get [email protected] and get out of the pool and walk as though I was on a catwalk in a fashion show. Britney was laughing really hard."
One source revealed, "At one point Britney was simulating s*x with him, putting on a really hot show."
Matt Encinias also revealed that the "Toxic" singer invited him back to her hotel suite and was wearing just a tiny pair of pink pants.
He added, "I went in and found Britney lying on the bed with her knees up and just a pair of pink panties on. She was looking like she was ready – and I wanted to finalize it."
He claimed that the singer wanted him to stay the night, but his friend collapsed and the singer's bodyguard told him to take him home.
Comments
comments