Charlize Theron, the Oscar winning actress, was spotted splashing around a waterfall in a tiny string bikini during a romantic getaway with her boyfriend Stuart Townsend in the rainforests of Belize.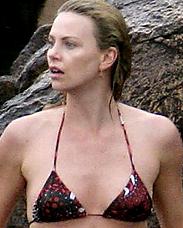 The pair are said to be staying at the exclusive Blancaneaux hotel, which is owned by director Francis Ford Coppola.
While the actress has been dating Irish actor Stuart Townsend for almost seven years, she has no plans to walk down the aisle.
She recently revealed "I'm happy for people who want to get married. It's not my thing."
As for her boyfriend, the striking actress once revealed, "We disagree constantly, [but] he's the best thing that's ever happened to me."
The actress hoped to eventually have children, saying, "I would love to have kids."
Comments
comments