Britney Spears has reportedly threatened to leak footage of Paris Hilton enjoying a lesbian kiss on the Internet.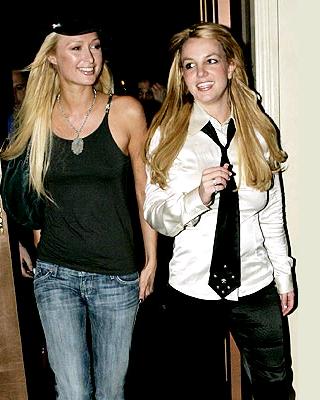 The "Gimme More" singer, who fell out with Paris at Britney's 26th birthday celebrations on Sunday, sent the hotel heiress a letter warning her she has an X-rated tape of Paris.
In the letter, she tells Paris the footage will be made public unless she treats her friends better.
A source revealed, "Britney and her pals wrote to Paris and told her they are hearing rumors of a new sex-tape scandal. The letter also claims the tape shows footage of Paris locking lips with one of Britney's female friends at a party. It warns Paris that if she continues being rude to people, the footage will be leaked online."
The note ended with Britney and her friends telling Paris they look forward to hearing back from her.
The pair are said to have fallen out at Britney's birthday bash after Paris snubbed her.
However, Paris isn't worried about the letter because she thinks mother-of-two Britney is acting immaturely.
A source revealed, "It's obvious Britney and her bratty pals are being silly. Paris laughed when she got the letter, supposedly from Britney and said it was 'c**p.' "
Comments
comments